Description
Rawmest Tulsi Leaves are Organic and Natural Dry Leaves and their leaf buds, Tulsi leaves are also called Holy Basil (Ocimum tenuiflorum), Tulasi, and Indian Basil. The plant is widely used in Ayurvedic and folk medicine; It is also used as a culinary herb with a pungent flavor that intensifies with cooking. The fragrant leaves are green or purple, depending on the variety. The holy basil plant is revered in Hinduism as a manifestation of the goddess Lakshmi (Tulsi).
Fights the common cold, promotes oral health, eases inflammation, nourishes the skin, relieves stress, alkaline the body.

Holy basil is rich in vitamin K, a fat-soluble micronutrient that helps support heart health and bone mineralization.

Tulsi or holy basil is an important herb in Ayurvedic medicine. It is especially known as an adaptagen, an herb that supports the body's stress response (whether physical, chemical, metabolic, or psychological). It is known as the "Queen of Herbs".
Medical Use of Tulsi:
Tulsi is called the wonder herb or sometimes the holy herb because of its medicinal properties. There are many diseases that can affect people again after it has left the person. But with the consumption of Tulsi, you can be sure that these diseases cannot affect you. Here are some of the ways in which tulsi can sort out various medical problems.
Tulsi can help cure fever.
Tulsi leaves are used to treat skin problems like acne, blackheads and premature ageing.
Tulsi is used to treat insect bites.
Tulsi is also used to treat heart disease  and fever.
Tulsi is also used to treat respiratory problems.
Tulsi is used to cure fever, common cold and sore throat, headaches and kidney stones.
Tulsi helps in treating  Asthma.
HOW TO USE :- Tulsi tea: To make tulsi tea, boil 1 cup of water and pour it over 1 tsp of fresh tulsi leaves, 1/2 tsp of dried tulsi leaves or 1/3 tsp of tulsi powder. Cover the water in a pot or mug and let it seep for 15-20 minutes. Then strain the leaves, add honey if desired and enjoy.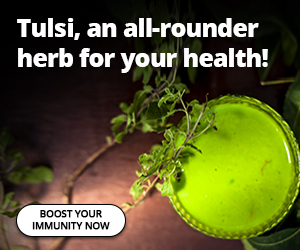 DIRECTION TO USE
1. It can be used in both sweet and savory dishes,
2. Tulsi tea can be made by brewing the dried leaves,
3. It can be used as an ingredient in many preparations like an essential oil.
OTHER FEATURES
1. 100% Pure and Natural Dried Tulsi Leaves and their buds.
2. Premium quality: No GMO, Vegan, Gluten Free, or Kosher Certified.
3. Origin of India.
Marketed by 4in1 Infotech and HerboKart.com